"We're looking forward to using this technology so we can go to our customers and say, 'here's our strategy, and we're going to give you an option that's grounded in reality. Not grounded in maybe's, nor guess-timates."
Photo courtesy of SDMM Ltd.
Enginuity is proud to announce that we are working together with SDMM Ltd. in integrating Digital Twin Technology to our Discovery Process so we can better assess the as-is condition of a site, plant, process, or any other asset when applicable.
Servant, Dunbrack, McKenzie & MacDonald Ltd. (SDMM) is a Nova Scotia owned and managed survey company providing a wide range of Surveying, Engineering (municipal infrastructure and land development design), and Reality Capture solutions, with a collective history of more than 100 years as a professional surveying and engineering firm.
We are more than excited to be working with them!
You do – and anyone working with us.
Discovery is always the first step for any project we're working on, and it is designed to fully identify the core and extent of a problem or situation while exploring applicable solutions.
Having this Reality Capture Technology readily available to us when needed will be able to provide us with better insight and accurate real-world data, especially when the asset in consideration doesn't have pre-existing records available.
This also gives us the opportunity to recreate an asset in digital space, simulate different solutions and scenarios, as well as analyze any problems at hand; before implementing any actual changes to the original physical environment. 
This technology is especially useful when working within the following examples and other similar range of applications:
Reverse engineering an obsolete asset

Designing enhancements to an existing facility (especially ones that do not have schematics, layouts, or dimensional information)

Retrofitting equipment to a marine vessel

Improving processes in a factory production line

And a lot more 
Digital Twinning has also been changing how work is being done in a variety of industries, including: construction, manufacturing, automotive, and healthcare. 
"This all started when [the team at Enginuity] was preparing to work on a fish processing facility and, like many in this region, it was an old, repurposed building with a history of undocumented retrofits. The client did not have reliable building drawings to work from, so we suggested laser scanning to quickly capture their current operating environment," Chris Foran, P.Eng, Reality Capture Lead and Partner from SDMM said. "This would allow the owners of the facility to virtually explore their site and benefit from accurate space measurements to do future space planning and plant optimization," he continued.
Our team here at Enginuity quickly saw the potential application of the Digital Twin Technology to other projects. This has changed the way that we do some of our Discoveries since starting the collaboration earlier this year.
"We have radically reduced the amount of time on site measuring and surveying the project environment, as we often do not get access to site maps and drawings. This has then improved our confidence in 'right-sizing' a solution," says Alastair Trower, Director of Business Development for Enginuity. "The technology has been very useful especially during COVID, when access to sites is limited. This has allowed us to design solutions and improvements directly into the correct geometry of a real-life situation."
With this collaboration, we can provide clients with an accurate portrayal of their current situation along with a series of planned improvements that are tailored to their budget, operational capacity, and current space.
"Many production facilities across the region are older buildings that have evolved over many years. Having the ability to walkthrough and take a 3D model of the space back with you allows us to accurately design, specify and implement improvements that allow producers to get the best out of the space." Alastair adds.
Photo courtesy of SDMM Ltd.
What is Digital Twin Technology and how does it work?
By definition, "A digital twin is a virtual representation of an object or system that spans its lifecycle, is updated from real-time data, and uses simulation, machine learning and reasoning to help decision-making." [1]
3D Laser scanning, a Reality Capture technology, is the first step in this process: understanding what's there, with a high degree of accuracy. The laser scanning device, in this case a Leica BLK2GO, generates a 'point cloud' of millions of related points in space that can be used to build a 3D walk-through or form the basis of a 3D CAD model for accelerating the design improvement process. Different scanners are used depending on the complexity of the space or object being scanned, the required accuracy of the finished model, and the time available on site to perform the scan operation.
After a complete 3D scan is done, the Digital Twin is then created by assembling, analyzing, and modeling the digital information during post-production, to make sure that everything is reconstructed properly to suit the application at hand. Together with the digital twin, virtual job site walk-throughs can be made available from the same point cloud data in an intuitive, browser-based experience that can be shared with all stakeholders, anytime, anywhere, on any device. Owners can easily communicate and collaborate with their design teams remotely as if they were there in person.
"Once the digital twin is created, we can then proceed and do whatever analysis, design, testing, and simulation as desired. Having a digital basis to work from allows you to start exploring 'What-if' scenarios with your facility," Chris adds.
Sample renders | Click to view next
Photos courtesy of SDMM Ltd.
Photo courtesy of SDMM Ltd.
How does this help us, and how does it benefit you?
Because we can accurately assess the feasibility and impact of certain solutions and improvements without having to modify the original asset, we are able to decide what will work best with a level of certainty, accuracy, and confidence before finalizing on a decision and implementing it on site.
Some tests that we can do include:
• Plant reconfiguration and identifying what configuration can yield the most throughput and hit production goals
• Accurate modification, installation, and placement of new equipment
• Routing and placement of new pipework, conveyors, fork-lift routes
• Landscape set-up for Autonomous Mobile Robotics (AMRs)
When we save time and resources, so do you. Having the ability to go faster on our end means that we can address your problems faster and minimize your risks and losses, while also maximizing accuracy. With this technology, you're able to see the full extent of both an asset's current state and possible improvements and have confidence in our solutions before we even implement them – leading to better business decisions moving forward.
"With Enginuity embracing this technology, I'm looking forward to helping Enginuity and their clients move different projects forward with an added strategic advantage. The applications for this technology are endless; there's really no limit to it, and we're really looking forward to seeing Enginuity's clients benefitting greatly from this," Chris Foran adds.
We've already improved the way that we do Discovery here at Enginuity since beginning the collaboration early on this year, and we're looking forward to pushing the limits of this technology to best serve you and our clients and expand the scope of our projects.
SDMM's Digital Realities Group is an end-to-end service provider of Reality Capture and As-built Documentation Services. They digitally capture every centimetre of your project and deliver the complete picture so you can explore it inside and out. This creates new opportunities for greater project understanding and productivity while saving time, eliminating uncertainty, and minimizing your risk.
For more information about SDMM, Digital Twins and their services, you may visit: https://sdmm.ca/reality-capture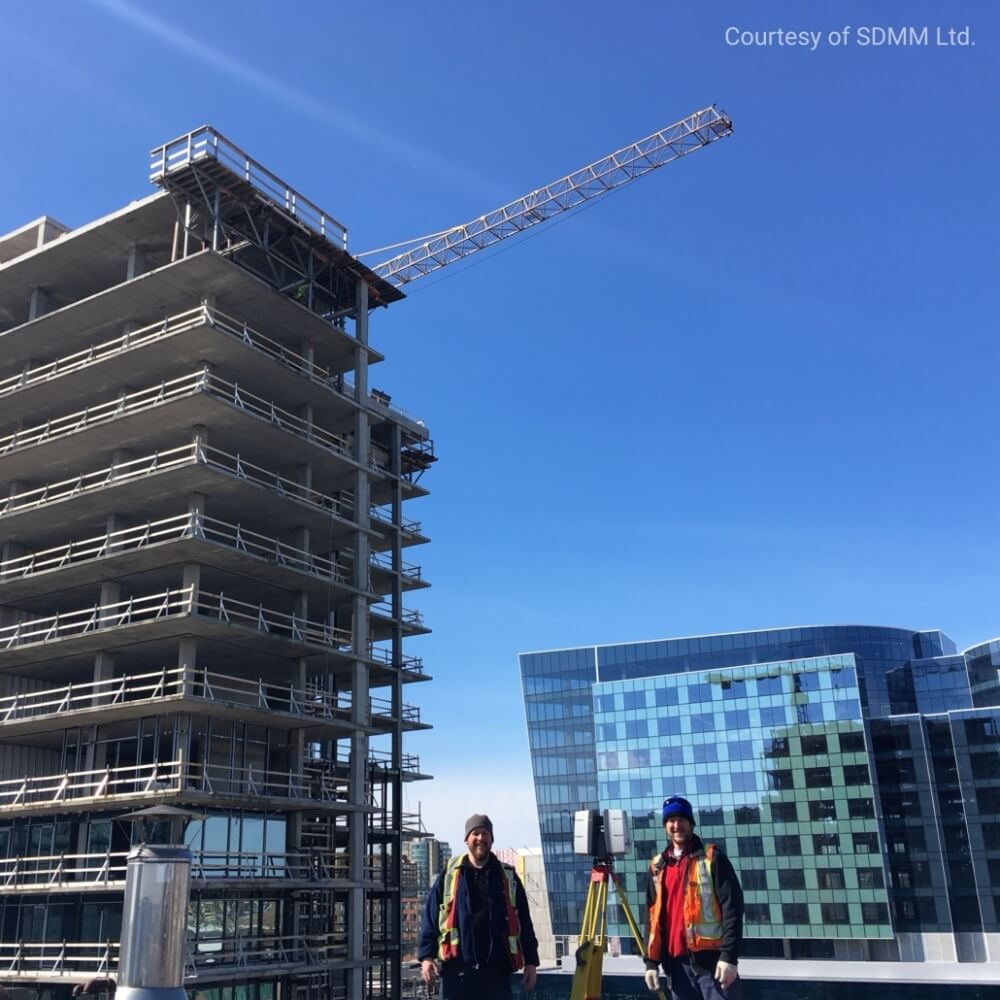 Photo courtesy of SDMM Ltd.
Have an asset that can use Digital Twins?
Want to improve production? Reverse engineering an asset? We can help.
"*" indicates required fields