Leverage your data to increase efficiency, anticipate problems, improve quality and safety
How did you get here? More precisely, how exactly did you arrive at this specific article? Chances are you were wondering about IoT devices, which led you to Google, which brought you here — to Enginuity!
Welcome. We are now connected, from the privacy of your office or living room, by the magical power of the internet.
The Internet of Things (IoT) takes that connection several steps further. IoT includes any machine, device, or appliance capable of passing data to a larger network. It means connecting not just people, but THINGS, to the internet.
Remember that long-promised fridge that automatically orders your groceries as you run out of milk and eggs? That's the essence of IoT. IoT devices enable the transfer of data among objects or people automatically — without human intervention.
Technically, how does it work? Well, there are four major components in IoT systems: the sensors/devices, connectivity, data processing, and of course, the user interface. The sensors/devices collect data, and then it is sent to the cloud system through different connectivity options. Then of course, the iot data will be processed and interpreted. Afterwards, depending on what comes out of processing, this information needs to be made useful to the end user through different iot platforms. This could be done through smart devices like smart phones and wearables like smart watches, or it could be more traditional through devices like thermostats.
(Want a little more detail? We like how this blog post from HT India Labs explains IoT!)
What's the Industrial Internet of Things? 
A key piece of the puzzle is IIoT — the Industrial Internet of Things (Industrial IoT). It has the same features, intelligence, and capabilities as IoT. The difference? IoT devices are typically for consumer use. IIoT is deployed for industrial purposes including manufacturing, healthcare, supply chain monitoring, utilities, and remote management systems.
IIoT has much more focus on security, multi-level communications, and something called "edge processing" — but more on that later!
Today, plants and facilities are full of machines that must be connected in order to pass data into a larger network. This "big data" can be fed into a machine learning environment, so not only is your process improved, your system can actually learn new things, heal itself, or predict future needs.
Why does IoT matter?
Think of all the things you do in a day that involve connected devices to the internet. You wake up and check the weather on your smartphone, then set the house alarm before leaving for the day (because if the dog knocks over the goldfish bowl, that security system will transmit an alarm to the monitoring company and presto — you're on your way home to rescue the goldfish!). On the ride to work, you order coffee through a mobile app and pick it up on your way to the office. Later that morning, your smart home system sends you a video of a package being delivered to your front door in real-time. On the way home, you scan a QR code at the bus stop to see when the next bus is coming. While you were out, your power meter was read remotely by the power company from their recently installed smart metre.
Think about it: not one of those everyday tasks would be possible if it weren't for IoT development, or the passing of data among multiple devices. What you might not know is that every one of these interactions is also feeding data back INTO a larger network, which then uses the data to improve services and access to information, predict changes, and "learn" from user behaviour in all kinds of ways.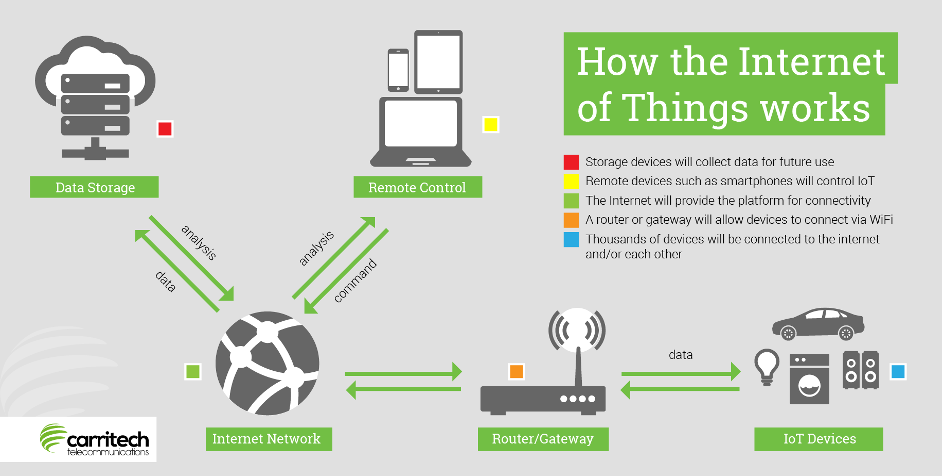 So… what does IoT mean to me?
IoT frees businesses and people to do more complex, higher-level tasks. It makes our lives easier, our products better, and our services safer. It allows us to actually USE all that information.
This brings us back to edge processing… In edge computing, information is processed close to the "edge" of a network or system, where people and things are making or using that information. In other words, YOU — your factory, your facility, even your phone. Edge computing brings computation and data storage closer to home, improving timeliness, relevance, and cost-savings.
Here's a great example: Say you get a cool remote weather station as a Christmas present. It has sensors and metres for wind, temperature, sunlight, and rainfall. You pop it up on the garage roof, and a screen inside the house tells you all the things going on outside the house. Your home console connects to your home wifi, which connects your little weather station to a global network aggregating and learning from local weather data. You, citizen scientist, are on the edge of the network, providing important data to the big brain in the middle. This information, in turn, makes life safer and more predictable for others in your part of the world.
Check out these Nova Scotia companies at the cutting edge of IoT:
LORAX Systems. This environmental solutions company and Enginuity client develops and delivers innovative systems and products that mitigate environmental and safety risks in the natural gas, liquid fuel, and fuel filtration space, while offering operational and cost efficiencies.
Sedna Technologies. Sedna leverages the power of data and technology in the commercial fishing and aquaculture industries to maximize the return on harvesting for a better and more sustainable world.
Does MY company need IoT?
Are you developing a smart consumer device that adds value for your clients?
Is there an advantage to collecting data from your system, process, or facility?
Do you want to take that data and leverage it to improve your process, production, management, safety, functionality, sustainability, or customer responsiveness?
If the answer is YES to any of these questions, IoT is the next logical step. The Enginuity team is here to help with IoT product development, condition monitoring, and process improvement.
We believe that every business deserves to benefit from the most up-to-date technology available. Enginuity's Halifax, Nova Scotia-based IoT engineers make sure you can access and use your data to increase efficiency, improve quality and safety, and anticipate problems. IoT can also help you monitor and manage complex systems like production lines and plant processes remotely, 24 hours a day.
Talk to us today about how machine to machine communication (M2M) and IoT can help you.
Curious about IoT opportunities?