DISCOVERING EFFICIENCY WITH SURRETTE BATTERY CO.
Building a plan for manufacturing growth by eliminating inefficiencies. 
Surrette Battery Company
https://www.rollsbattery.com
Surrette Battery Co. is one of North America's leading lead-acid battery manufacturers, building products under the Rolls Battery brand.
Type of work: Manufacturing Process Discovery
The Challenge – Finding Efficiencies
How can you balance the need for increased production to handle rising costs, employee satisfaction to retain good employees, while also reducing costs and waste in manufacturing processes? Take a look at how Enginuity helped Surrette Battery Co. find inefficiencies in their processes.
Surrette Battery Co. (https://www.rollsbattery.com/) is one of North America's leading lead-acid battery manufacturers, building products under the Rolls Battery brand. Surrette has been a significant corner of industry for Springhill, NS for over 60 years, with almost 90 years in business overall. They are a third generation family run business and are known all around the world for their high quality products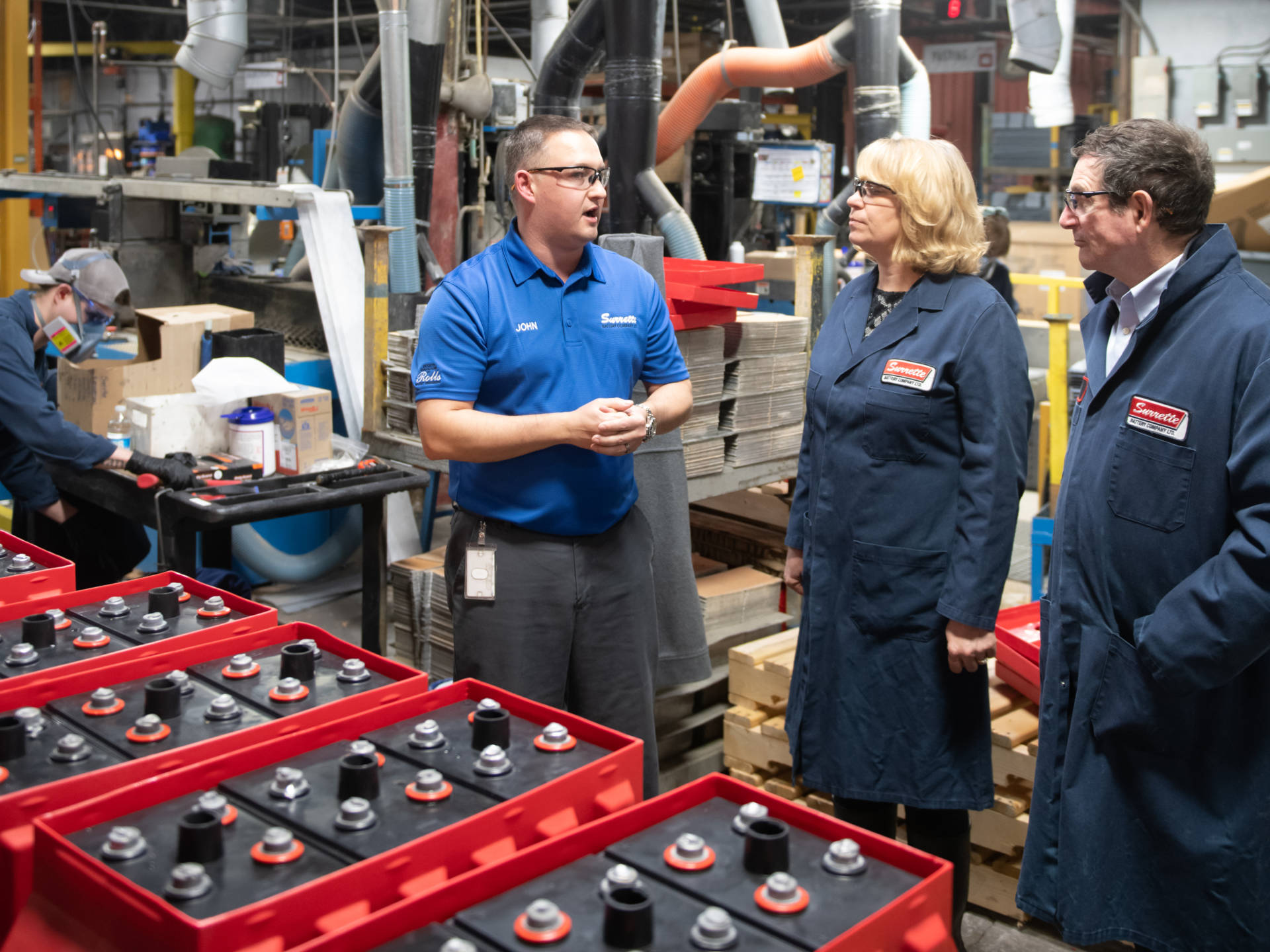 In earlier years, locomotive and marine played a big part in propelling the company forward. To keep up with modern demands, they've been increasing their line of products for use in alternative energy. With the help of some key partnerships like Twende Solar, they've been able to bring electricity to rural communities in third-world countries to help power schools and whole villages.
The Manufacturing Process.
Surrette Battery Co. uses a blend of human labour and automation to build, process and assemble their products in the plant. Many of these processes involve high heat, dangerous equipment and attention to detail. While the systems in place have been able to maintain a high quality product, Surrette Battery Co. knew that there were some inefficiencies that needed to be worked out.  
Check out the video for a deeper look at their current manufacturing process.
How Enginuity Helped. 
While Surrette Battery Co. is the expert in battery manufacturing, Enginuity is the expert in creating efficiencies in the manufacturing process. Enginuity performed a Process Discovery on the waterbath process, a key step in ensuring high quality, but also suspected of being a source of inefficiency. The team at Surrette Battery Co. wanted to specifically map out methods to increase production, decrease costs and improve employee satisfaction/retention.
 The team at Enginuity took a trip to Springhill for an on-site visit to get a first hand look at the processes and equipment that Surrette Battery Co. was working with. Gathering as much information as possible is a critical step so things like process reports, system operation parameters, and staff observational feedback.
Taking a closer look at how the manufacturing processes were being carried out, Enginuity quickly found 5 high value challenge areas that could help drastically improve the speed and quality of the battery maker's output.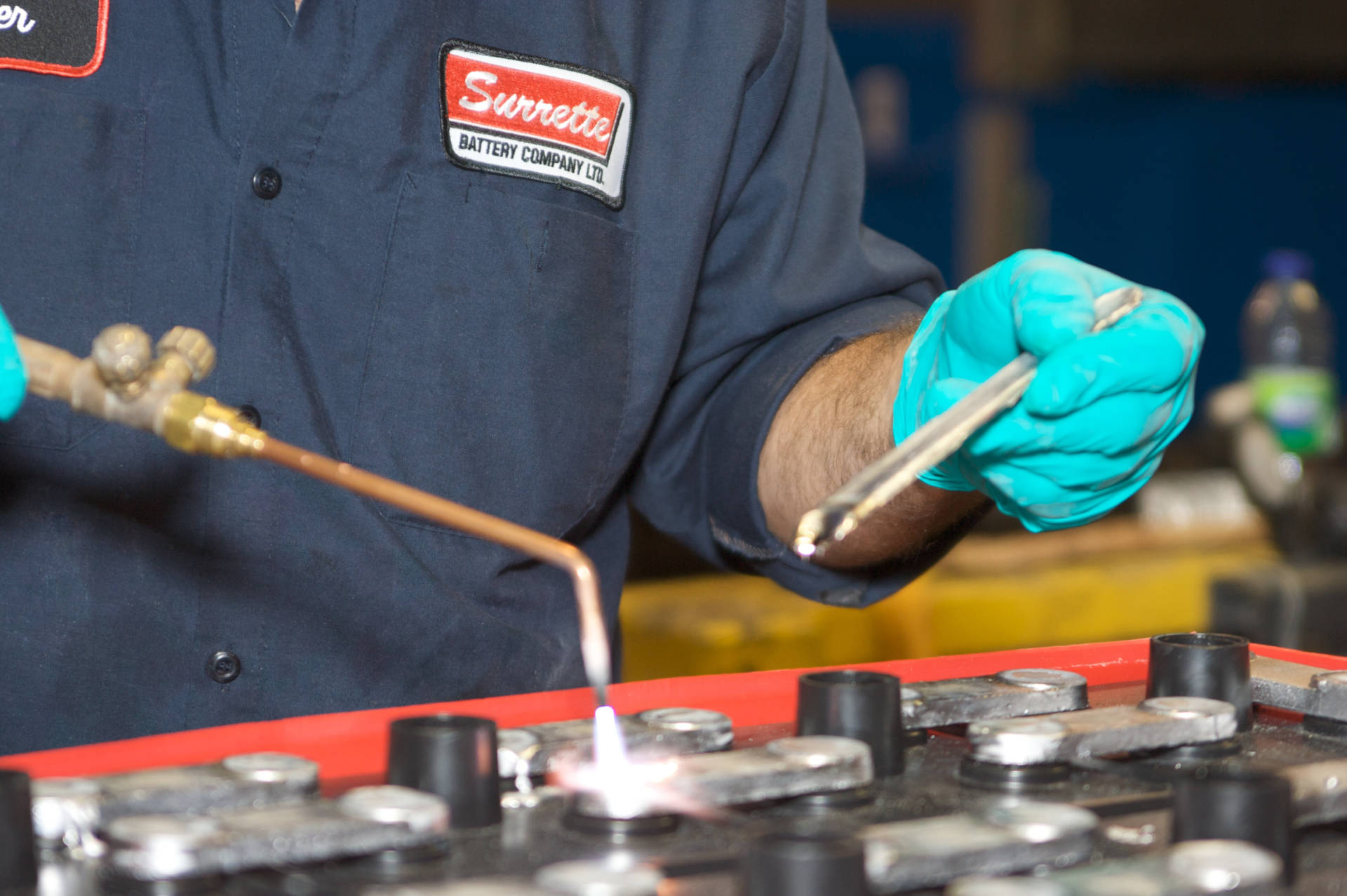 Developing ROI Projections
The costs associated with each of those identified areas were estimated by diving into the available site data including production throughput, labour and maintenance costs, in addition to services and supply costs. From there, we were able to provide an estimate of project costs and resulting ROI for implementing these changes. 
The relative risk and impact of each project suggested was also quantified and presented to the company with our Discovery findings. Upon review, Surette proceeded into Conceptual Design for two of the challenge areas – excessive idle-time, and cooling system limitations.
How Surrette Battery Co. is Charging Forward
Surrette Battery Co. is now equipped with a thorough outline of the inefficiencies that exist within the product manufacturing process, and several items that will improve this process. They were able to see their process through a fresh set of eyes which allowed Enginuity to pin-point challenges at a high level.
What's Next?
Working with Enginuity, Surrette Battery Co. will be able to develop a long-term development plan that will continue to improve efficiency in their product manufacturing process. The partnership that developed from this Process Discovery has laid the groundwork for Surrette Battery Co. to allow Enginuity to develop a Conceptual Design of the systems that address excessive idle-time and cooling system improvements.
Developing and then implementing solutions in these areas

will

 achieve the

desired outcome of increasing production, improving employee satisfaction and in turn, decreasing costs and losses.
About Enginuity's Industry 4.0 and Automation Services
Enginuity offers flexible, unbiased, and tailored industrial automation solutions. Industry 4.0 represents a revolution in how we all do business, integrating traditional manufacturing and industrial platforms and practices with the latest smart technology.
Enginuity is highly skilled in machine to machine communication (M2M) and Industrial IoT (IIoT). We can provide innovative and customized solutions to meet your needs.
We'll help you innovate your way to smart automation, better communication and monitoring, and production lines that can self-analyze and diagnose issues before they become problems.
Some of our Industry 4.0 capabilities include: Autonomous mobile robots (AMRs) and autonomous guided vehicles (AGVs), Artificial Intelligence (AI) and Industrial IoT (IIoT), Condition monitoring packages, and SCADA solutions. You can find out more here.
In addition, our automation services include Industrial Controls like PLCs (Programmable Logic Controllers), HMIs (Human Machine Interfaces), and Machine vision for Quality Control, Artificial Intelligence, Classification, Determining volume and weight, Production Identification, Thermal Sensing, and Grading. You can find out more here.
Along with our Industrial Automation Services, you can find out about our Robotics capabilities here.
Our agile team also worked on doubling food production using automation.
To keep up with new projects and industry information, follow us on:
More Projects
We're always working on something great. These other projects are pretty cool too.
Talk to us. We will be in touch with you soon.