From Helicopter to Exhibition Hall:
Hoist Training in Virtual Reality 
Image source: Bluedrop Bluedrop Training & Simulation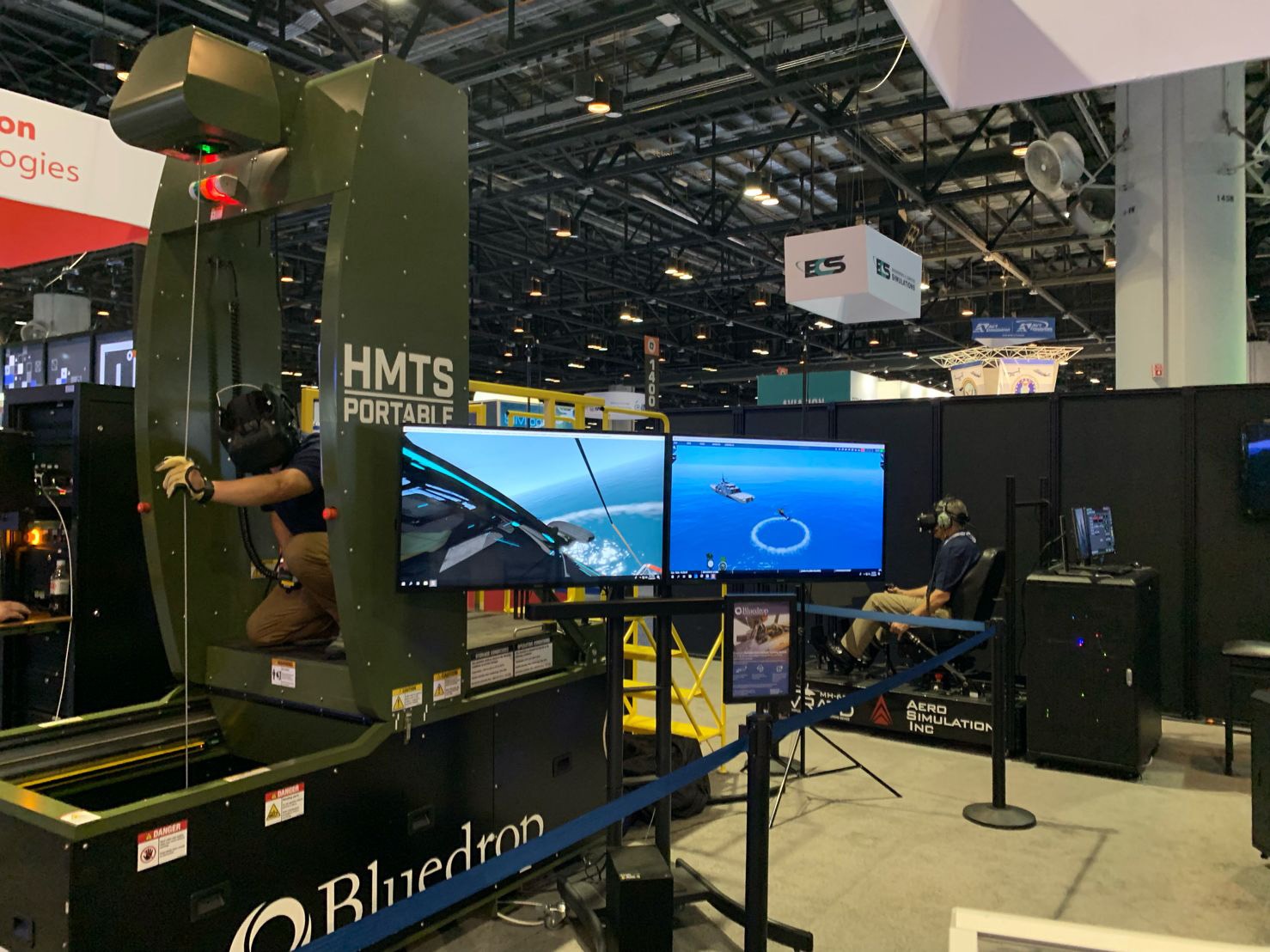 Image source: Bluedrop Bluedrop Training & Simulation
Bluedrop's Hoist Mission Training System (HMTS) is a fully immersive virtual reality device that is used to train search and rescue personnel for various hoisting operations. The system enables the training of soldiers, flight engineers and rescue technicians in an extremely realistic yet safe environment, making them ready to deal with all types of dangerous operations and emergencies. 
Enginuity has been designing physical structures and environments for Bluedrop's virtual reality training systems since 2014. The full-scale HMTS can simulate high cable tensions that mimic those usually applied when hoisting people or objects onto a helicopter. Seeing the simulated world through Bluedrop's virtual reality headset and simulation engine, trainees can move and interact with a virtual cable in a real-life scenario. The large coordinate table, more commonly known as an X-Y table, built into the system allows the virtual and physical cables to remain aligned for a large range of motion, replicating real hoist behavior. However, as an industrial training tool, a full-scale HMTS can weigh up to 8000 lbs. and is not designed for portable use. 
Seeing a need for a more portable trainer to demonstrate at tradeshows and to deploy at forward operations bases, Bluedrop wanted to design a system that could fit on a double (4' x 8') pallet and be easily and quickly assembled. Bluedrop asked the Enginuity team to scale down the original design to allow for rapid installation and tear-down. 
In order to design the portable HMTS, the Enginuity team first had to identify the challenges associated with this idea. Figuring out how to scale the system down to a small enough envelope while maintaining all the features of the full-scale system was key. Some of the most challenging constraints were space, packaging and ease of setup. A full-scale HMTS typically comes in two separate, yet significantly large, subsystems; the hoist and the fuselage, which are built together at the site of use. Therefore, another challenge that the Enginuity team encountered was how to merge these two subsystems so that they no longer require any major on-site assembly. 
Image source: Bluedrop Bluedrop Training & Simulation
Most tradeshows and forward operations bases are short on power. The HMTS controls design had to take this into consideration allowing for fast, efficient set-up. 
Using 3D modelling and after rounds of prototyping, Enginuity was able to develop a novel design for a portable HMTS. The full-scale system formed a reference from which the design specifications were derived. A portable system meant a more compact one and therefore, almost all of the full-scale parts had to be sized down. The team also had to either redesign mechanisms to suite the new dimensions or develop completely new mechanisms to effectively replace the ones that couldn't be scaled down. Given Bluedrop's line of work, precision and accuracy were vital, and the Enginuity team had to maintain a significantly high degree of fidelity to meet the required standards. In short, a military specialist should be able to use the system and feel like they are operating a real hoist in real conditions. 
Most of the 3rd-party control panels and electronics were integrated into the base of the system to increase space efficiency. To achieve the goal of merging the hoist and fuselage subsystems, an actuating door aperture was designed to ride on the top of the unit, this greatly eased the assembly of the system. The hoist assembles in 1 hour with just a power drill. The actuating door stands in place of a helicopter's door and replicates where trainees would normally be standing during hoisting operations. 
Forklift pockets and casters were also added so that the system could either be rolled onto a ramp or forklifted onto a stage. Weighing approximately 1300 lbs., the portable HMTS is significantly lighter than the full-scale system and can be lifted by standard material handling equipment while remaining robust enough to be "true to life". 
Image source: Bluedrop Bluedrop Training & Simulation
Enginuity was able to successfully design a fully functioning structure for the portable HMTS that contains all the features of a full-scale HMTS; every moving part and every subassembly but shrunk, compact and fit into a standard footprint.  
The portable HMTS has been showcased by Bluedrop in a number of conferences and trade shows over the past year and has proven to be one of Bluedrop's most powerful marketing tools. By exhibiting this system, Bluedrop allows people to experience the advantages of training in an HMTS and appreciate the safety and economic benefits of incorporating round based virtual reality training into regular crew training. 
 You can learn more about Bluedrop's portable HMTS here.
About Enginuity's Engineering Services
Not sure who to call? Enginuity offers a full-range of
engineering services
.
We work with small and medium enterprises as well as large corporations across a wide range of industries including Aerospace and Defense, Industrial and Marine, Manufacturing, Product Development, Medical Devices, Food and Beverage, and more. Our cross-functional team has a wide range of expertise, ensuring that we get to the root cause of your problem while evaluating your long-term needs, so that you get the best service possible.
Is Enginuity the right partner for you? You can read about some of our past projects (and engineering case studies) and read why clients love working with us.
Our principles-based, agile engineering over the past 17 years is built upon our core mission of making a lasting impact to our clients and ensuring that they get what they truly need moving forward – no cookie-cutter engineering. No meaningless micromanagement. Just lean, fast, creative engineering leadership that understands and moves you forward to your goals, at your pace.
If you think we'll be a good fit, we can start that conversation here.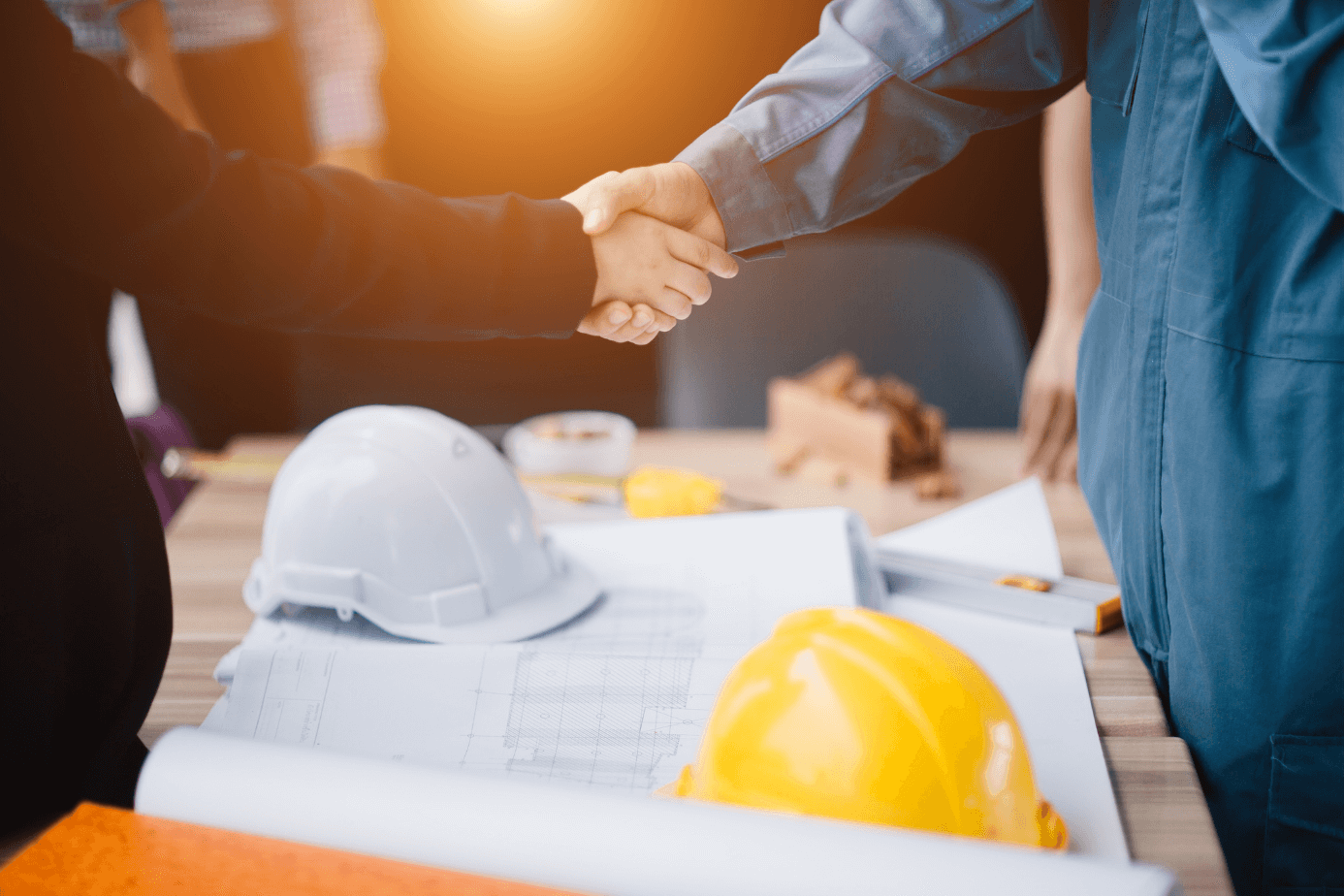 Here's everything you've always wanted to know about outsourcing engineering, but were afraid to ask. We'll cover the different situations, risks, and how you can choose the right partner for the job. Learn more.
Unsure if Outsourcing is right for you?
Talk to us, and we'll be happy to answer your questions. Leave us your email and we'll be in touch with you soon.
"*" indicates required fields