Developing a Cannabis Analyzer with Greenlight Analytical
Greenlight Analytical
greenlightanalytical.com
James Wylde wanted to develop a prototype of a mass spectrometer that could sample cannabis in a simpler, more convenient way and provide faster and more accurate results. Enginuity's Product Development team are helping them make it happen.
Background
James Wylde from Greenlight Analytical has a background in detection for security applications and has always been passionate about accurate practices to ensure safety compliance. His prototyping idea stemmed from working with the Frito Lay potato chip company to find out how chips actually smell or taste (consistently across various manufacturing facilities) and how smell and taste are affected by the chemicals in the baking process. After Frito Lay, he started looking into the cannabis industry and what chemicals in the plant contributed to taste, smell, and physiological effects. James discovered that to get a cannabis sample into the laboratory was time consuming, manual, and prone to human error, leading to inconsistent results.
PROJECT PERSONNEL:
Rhodri Armour – Project manager
Chris Brace – Mechanical design, assembly, and testing
Alicia Stewart – Industrial design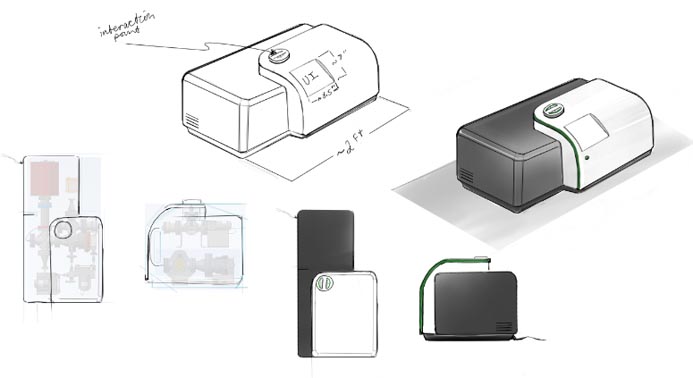 Product / Invention Idea
James wanted to develop a prototype of a mass spectrometer (a device that can measure the masses and relative concentration of atoms and molecules) that could sample cannabis in a simpler, more convenient way and provide faster and more accurate results. The idea stemmed from recent growth in the cannabis industry as buyers now care more about just how potent the plants are. James found that terpenes affect the smell, taste, and effects that cannabis has on the body, and he wanted to create a device to help differentiate types of cannabis based on these terms.
Greenlight Analytical envisioned a unique method of sampling products that consisted of users inserting a piece of a bud, pushing a button, and getting a composition profile result within minutes.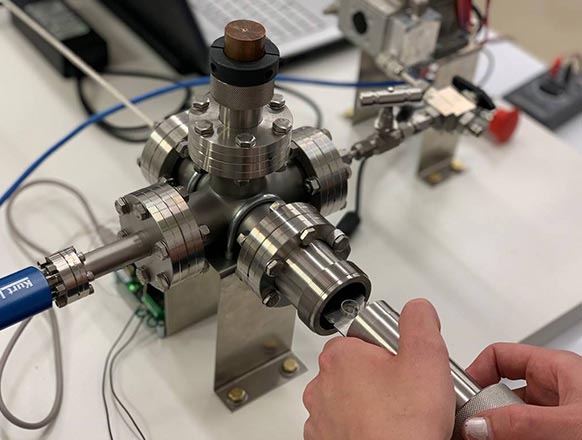 Product Development Process
Enginuity took a two-pronged approach to the New Product Development Process for the Cannabis Analyzer.
1) We had to demonstrate the novel theory by building a working technical demonstrator based on appropriate prototyping techniques to provide a device for initial evaluation tests.
2) In parallel to the working prototype, we needed to truth the product usability and develop an industrial design vision based around the demonstrated feasibility of the proof-of-concept.
"Working with Greenlight was seamless because they came to Enginuity with extensive scientific research already completed. They knew approximately what they wanted and provided expertise to assist in the proof-of-concept build and product vision. In general, the project was very collaborative."
"We realized that we were in need of an engineering firm specializing in product design and mechanical engineering, and Enginuity was recommended to us. After the first meeting, Simon and I walked out saying we don't have to look any further. Of all the engineers in Nova Scotia, they were the only engineering firm we needed to talk to — they were immediately the perfect fit! Our impression of Enginuity was extremely positive. Their creative design mindset and product development process was ideal and detailed, showcasing their expertise in the engineering field."
Project Value
The Cannabis Analyzer is the only device of its type that gives a comprehensive analysis of everything that could potentially be in the plant or other sample. It has the advantage of substantially reduced testing time over predicate/conventional methods. It also delivers highly accurate results based on chemical analysis of each cannabis sample. The Analyzer will allow customers to easily monitor the development of plants and make adjustments during the growing process to ensure the plant achieves the desired properties and complies with federal or provincial regulations.
"Our team always looks forward to learning something new and helping people solve their unique problems, so we were naturally very interested in Greenlight's idea — we believed they would benefit from our industrial design proficiency and research and development experience. Taking an idea and producing a product from that idea is something we are all very passionate about," says Rhodri Armour (Mechanical Engineer, Enginuity)
Greenlight says they felt a tremendous sense of relief knowing they finally found the expertise to get working on the product development process.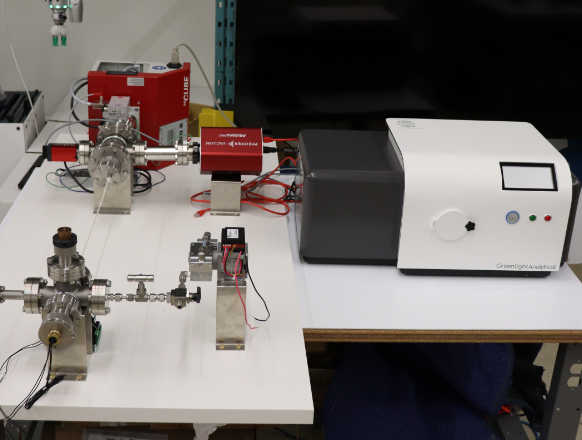 What's Next
Greenlight Analytical and Enginuity continuing to work together to build a valuable relationship and plan over the next six months to create a product joining the capabilities of the working prototype to the product vision to produce a usable Cannabis Analyzer suitable for early adopters. Ideally, they want to expand into the US because of wider market opportunities.
Greenlight Analytical expresses their gratitude to Enginuity for their contribution to the research and development process of the Cannabis Analyzer and looks forward to working together on future design engineering projects.
More Projects
We're always working on something great. These projects are pretty cool too.
Talk to us. We will be in touch with you soon.