PANDEMIC INSPIRED INNOVATION
How

Jackpot Digital Took a

G

amble on Remote Engineering & Won

 
Written by: Slaven Prostran, Mechanical Engineer
The Challenge – Remote Product Development
Having just passed through the second wave of the COVID-19 pandemic, the gaming industry was rapidly seeking solutions to suit the always shifting sanitization and social distancing requirements. The industry was in need of electronic gaming tables that are easy to sanitize, did not require a dealer, physical cards or chips, etc. Jackpot Digital was well positioned to meet this surge in demand, however, their existing prototype of the Jackpot Blitz® table, was not up to task. They needed to develop a new table that was easier to build, maintain, and to use as a platform for testing.
Jackpot knew they did not have the means necessary to develop this table on their own and searched Google for "Engineering Design in Canada" – this is where they found us – the team to make it happen!
Like the new product, the project itself was a shift into the new paradigm. With Enginuity in Halifax, Nova Scotia, and Jackpot in Vancouver, British Colombia, this was an entirely remote project spanning 4 time zones, 4500 km, and two opposite coasts of Canada.
Interactions that would normally happen in person moved online. Having already developed the capability to work remotely within the organization, Enginuity knew clear and consistent communication with Jackpot was key. Through collaborative Microsoft Teams channels, video calls, and the use of visual elements, we made sure information flowed continuously between us and the client. Following the development of the product through our unique Design Control Process will help showcase this.
The Discovery Process
The Discovery phase seeds the soil for the design effort. Enginuity worked with Jackpot to capture the requirements for the project and tailor them to ensure the best possible product to fit the ask. This also formed the foundation of the design project, giving the client, and our team, a platform where ideas could be integrated, truthed, and iterated in the development of a conceptual design approach. Having this project 'scaffolding' in place also allowed us to create meaningful design concepts, scope definitions, timelines, and effort estimates.  Discovery is absolutely key to de-risking and new design.
These early stages of the Jackpot Blitz® were simple – a high-level block diagram concepts of the table and the required components:

Several illustrations were also created to evaluate different aesthetics and layouts:

Concept Design
In the Concept Phase, different approaches were put to the test with physical mockups used to capture positioning of players, their interaction with the touchscreen, user comfort, and the required hardware peripherals.
Creating a physical mockup with real people, was the most efficient way to quickly iterate between concepts being designed for real people. It was also an excellent way to describe a complex interaction remotely to Jackpot which launched the design into early 3D CAD models:
As this product was a prototype intended to travel to trade shows, the decision was made early on to design a system with flexibility in mind. The use of fasteners in place of a large weldment would enable Jackpot to iterate portions of the unit in the future should an unexpected use case arise, were damage to occur during shipping, or a new configuration was needed.  This flexibility in design allows more rapid iteration later.
Detailed Design
The Detailed Design phase brought together these soft requirements and hard performance requirements such as structural rigidity, heat dissipation/management, and component integration. Enginuity and Jackpot maintained open lines of communication throughout the process, whether it was major milestones/decisions such as overall structural architecture, or fine details such as whether an edge was straight or curved. Multiple iterations of the developing CAD model and BOM were provided to the client to ensure everyone had the same visibility into the latest scope and progress, despite our distance and time difference.
Fabrication:
As the Detail Design matured, preparations for manufacturing began. Enginuity provided Jackpot with several high-end renderings to select the final appearance of the Jackpot Blitz.
To reduce manufacturing risk, Enginuity also reached out to trusted vendors prior to design completion, supplying them with preliminary models and Bills of Materials (BOMs) to flag and address any potential challenges in advance.
To deliver the product in time for a key tradeshow amid serious supply chain issues, Enginuity leveraged their network of suppliers, with parts having been ordered from Metaltech Ltd in New Brunswick, AMCO Precision Inc and CBM Metal in Ontario, hardware from McMaster-Carr in the United States, and even Enginuity's own in-house Machine Shop and 3D Printers, here in Nova Scotia.
Build & Test:
To further mitigate risk, Enginuity and Jackpot agreed to deliver the unassembled parts to Jackpot's facility in British Colombia, accelerating their ability to integrate and test their hardware and software. Though this was a departure from the conventional approach of Enginuity building the system, we pivoted to supporting the client in their build effort as much as possible.
All shipping between vendors and the client was coordinated by Enginuity, keeping Jackpot abreast of all updates. Custom parts and off-the-shelf items near Nova Scotia were consolidated at Enginuity and shipped from our location. An order for the required hardware was compiled and sent to Jackpot to purchase directly, with each item labelled according to its location in the assembly. CAD models were carefully annotated and sent to Jackpot to use as an assembly guide. Any specialized assembly steps were written out with clear instructions, graphics, or talked through in a video call. All the while, several members of the Enginuity design team were ready to board the next flight to BC if called for, but through our collaborative effort with Jackpot, they were able to complete the table and demonstrate it with resounding success at the trade show. 
The Jackpot Blitz® at Indian Gaming Tradeshow & Convention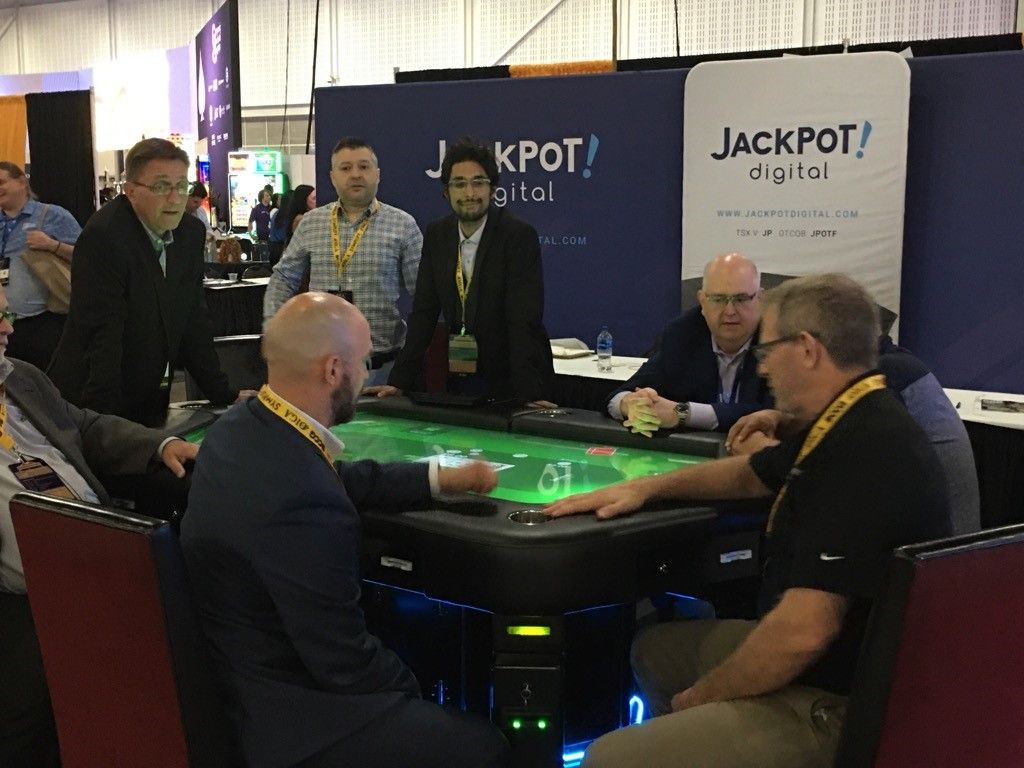 The Jackpot Team at the Oklahoma Indian Gaming Association's 2022 Conference and Tradeshow
"The gaming industry was hit hard during the pandemic, we needed to move quickly and taking a gamble on a remote team was risky.  From day one we got great vibes and the Enginuity team pulled together in spite of distance and challenging supply chains.  Seeing a new product on the showfloor at the Indian Gaming Tradeshow & Convention was amazing and it fuels the post-covid recovery of the business"
More Projects
We're always working on something great. These other projects are pretty cool too.
Talk to us. We will be in touch with you soon.