Introducing

 

marine connectors that will make launch and retrieval

for marine assets faster, safer, and more discreet

: SEA-Lift and SEA-Snap.
The SEA-Lift is a rapidly deployed, high-load dynamic lifting connector designed for challenging marine environments, while the SEA-Snap is a single-handed, high-load refined marine carabiner designed for offshore use.  
Both of these connectors are designed to be quick and effective
– reducing the time that it usually takes to make these connections, as well as reducing the safety issues typically associated with launch and retrieval operations. And in turn, these reduce costs all together.  
It's that easy. You can watch this video to see how they work.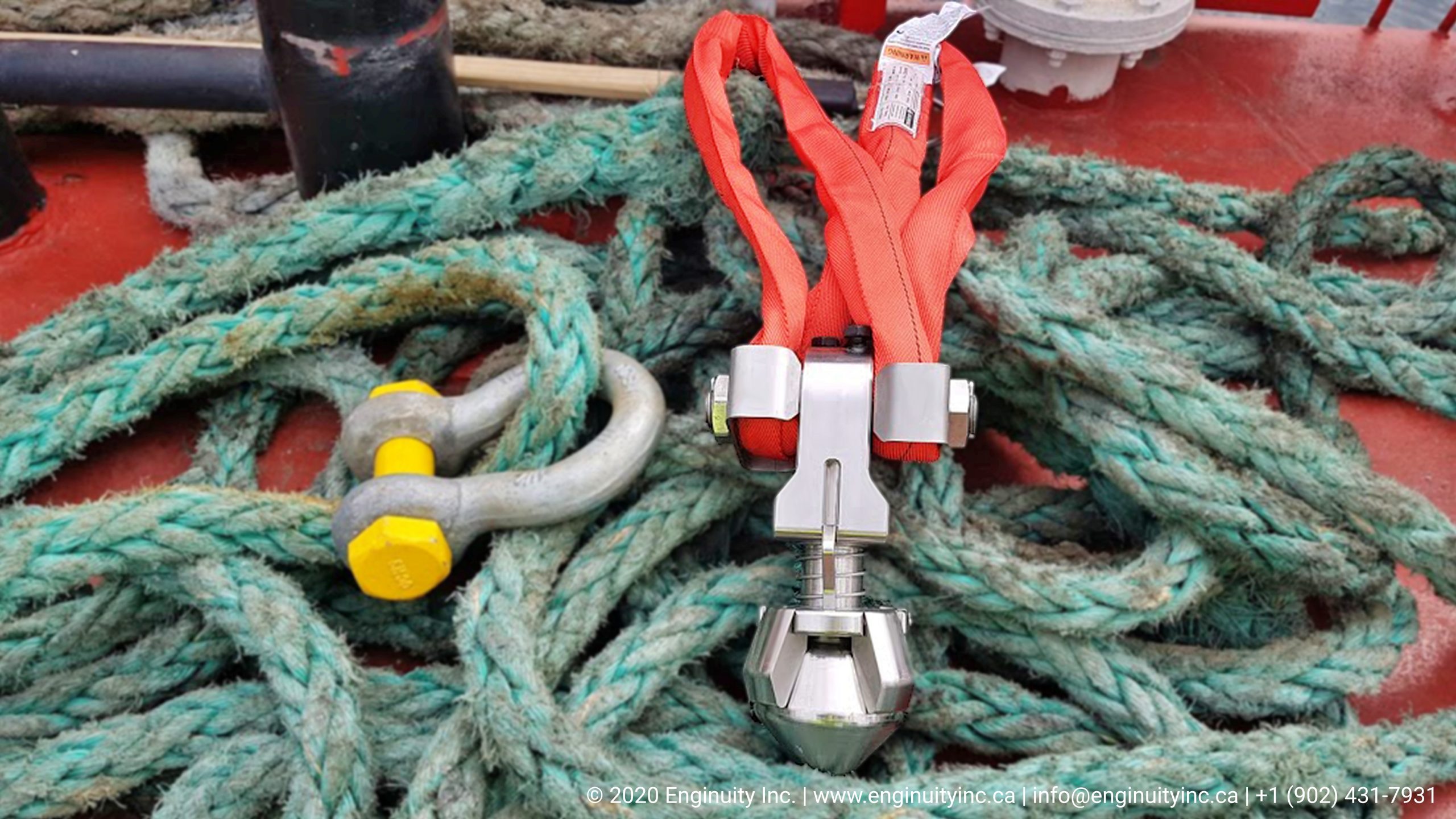 Safety, security, speed-offshore lifting: the SEA-Lift is a rapidly deployed, high-load lifting connector designed for challenging marine environments.  
The SEA-Lift is a dynamic lifting connector designed for at-sea use. Its applications include launch and recovery of AUVs, ASVs, lifeboats, and wave gliders. Its customizable design allows for complete integration into the lifting package.  
It is designed to be stronger than any equivalent sized chain, with a fully scalable design allowing for working loads up to 100 te WLL (higher capacity available on request), speeding up launch and recovery.  
SEA-Lift outperforms traditional lifting technologies: 
Optional deployment cone allows for high approach angle, self-centers during connection

 

Fully redundant secondary locking including options for remote release

 

"Instant Grab" – full load can be applied within seconds of connection

 

Instant connection saves money – first time and every time. 

 

Down line recovery enables recovery of covert and lost assets. 

 
Its applications include:  
Buoy and "Aids to Navigation" Management

 

Lifeboat and Fast Rescue Craft Handling and Recovery

 

AUV / ROV Recovery (Autonomous Underwater Vehicle / Remotely Operated Vehicle)

 

Subsea Asset deployment and retrieval

 

Offshore Cargo Loading and Unloading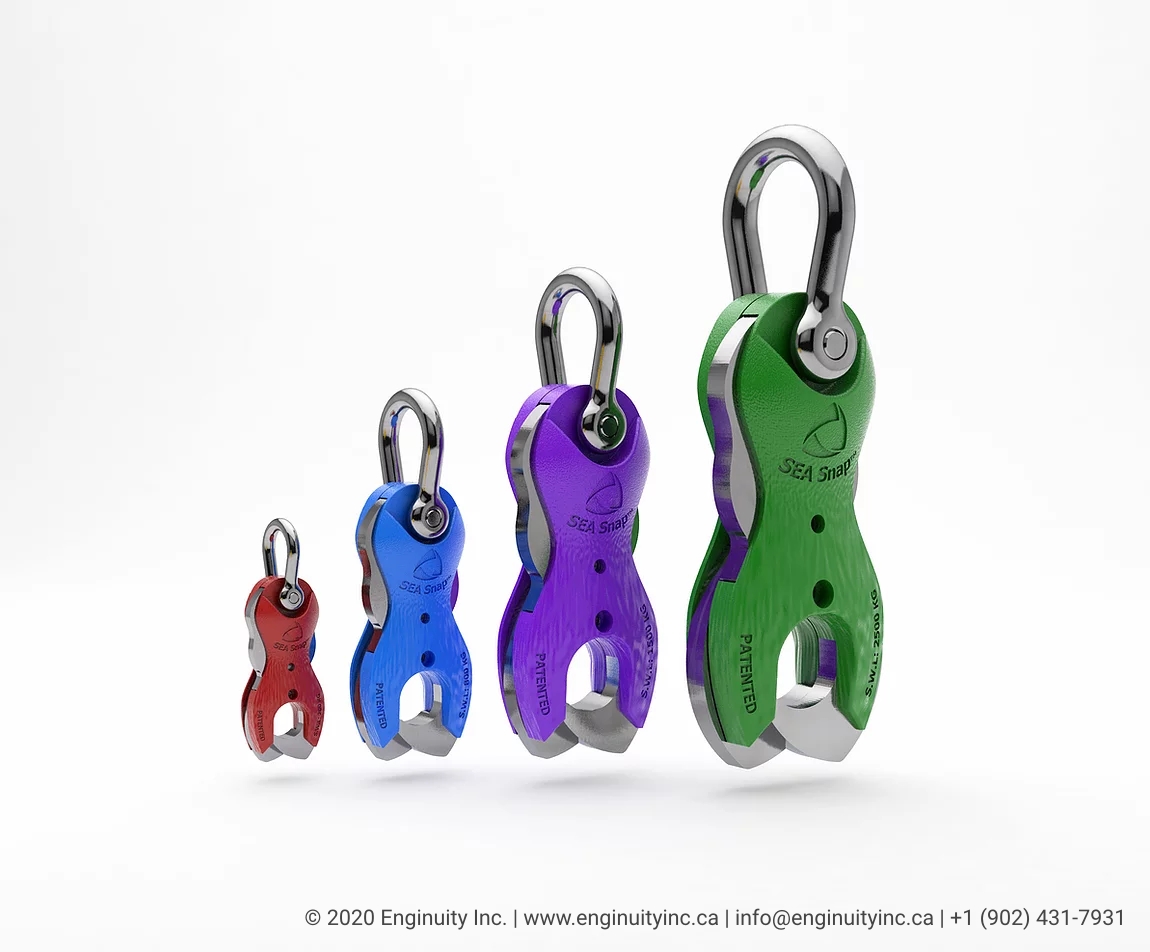 Simple, one-step, snap. 
Rapid, reliable, and secure offshore connections: SEA-Snap from Enginuity is a single-handed, high-load connector for offshore use, designed for harsh environments.  
Designed with a 5:1 safety factor, SEA-Snap instantly takes hold and will not release under load. For highly dynamic or long-term connections, SEA-Snap has an integrated locking pin to ensure accidental disconnection does not occur. Disconnection is a simple one-handed operation, making SEA-Snap an obvious choice for diver and back-deck operations.  
SEA-Snap is easier to use than conventional carabiners, snap-hooks and shackles, operation is simple, and your load is secure.  
Snap fit, instant-grab connection

 

One handed, gloved hand disconnection

 

Integrated locking pin, keeps connection secure

 

4 convenient, color-coded sizes 

(ranging from200 kg to 2500 kg)

 
The SEA-Snap can be deployed as part of a multi-point lifting system.  
Its applications include: 
Buoy mooring

 

Lifeboat and fast rescue craft handling and recovery

 

Recreation

 

Operations and tendering

 

AUV Handling and recover