Written by Ysa Gonzales, Enginuity Marketing
When I asked Mechanical Lead Louis Manuge what differentiates Enginuity's mechanical team from others, he couldn't quite pin his finger down to just one answer – and for a good reason.
"I think there's nothing we can't do. If you give us time and budget, we have the people to really dig into any problem and figure it out. It's a very talented group, and we have a very broad skill set. I really, firmly believe that not even the sky is the limit – I think we could probably design a rocket and shoot it off to space. As long as it's physically possible, we'll find a design that works."
Enginuity's Mechanical Lead Louis Manuge grew up in Dartmouth, Nova Scotia, and some time after graduating from Dalhousie University's Materials Engineering Program, he joined Enginuity's team in 2009. Since then, Lou has worked on many interesting projects especially involving Marine Engineering, as well as Aerospace and Defense.
"[One of the projects] that has been very rewarding to work on was the propulsion power supply systems for next generation spacecraft," he continued, "We had to come up with a layout that would work mechanically and functionally, with a good thermal design as well so that it won't overheat. It was challenging to balance those things, but eventually after getting the right solution, it was really rewarding to see it get built and tested."
Among the Mechanical Design and Engineering Team's top capabilities, apart from Structural and Machine Design, is Finite Element Analysis (FEA). FEA is a method used to simulate a physical phenomenon, structure, or system using the Finite Element Method, or FEM.

FEA GIFs in action. (L) Can (R) Checking load interactions in the design code
FEA is primarily used to test ideas and optimize designs, which can de-risk the project and validate the design before it goes out into the world and is subject to real world environments.
When asked what the main benefits of doing FEA modelling were, Lou highlighted de-risking, cost-reduction, and optimization. He explains, "There's a lot of cost involved to designing and manufacturing. So, I think that de-risking novel technologies and novel designs with some upfront analysis makes a lot of sense to validate the design, before it gets released into the world, and is under real loads."
He continues, "I've seen it upfront, but I've also seen it on the backend where there has been a failure, and we have been able to do a bit of forensics and see why it failed. It makes a lot of sense from a de-risking point of view, as well as coming up with an efficient design, so that we can make things lighter, faster, and cheaper using our analysis tools. These are just some of the major aspects in terms of value that we add to our clients."
How can FEA benefit industries in Nova Scotia?
As for industries in Nova Scotia that could really benefit from Finite Element Analysis, Lou says that they've found success in the marine sector – whether it was for rigging equipment, lifting equipment, or commercial fishing. According to him, any heavy mechanical equipment that can live on boats have benefitted from the team's mechanical design and FEA over the years, and will continue to do so moving forward.
Furthermore, Lou suggests that another interesting thing that he foresees with FEA as well as with Machine Design, would be the possibility of dovetailing those capabilities into Automation. He says, "Machine design and automation together, coupled with our regional demographic issues when it comes to labor, are seeing a big role in food processing with a lot of sectors. We've already started to work closely with our Automation Division to make this possible, and we will continue to do so."
Apart from those two major industries that the mechanical team could play a major role in, Lou says that they have also been very active doing design and analysis for defense companies, as well as the military sector.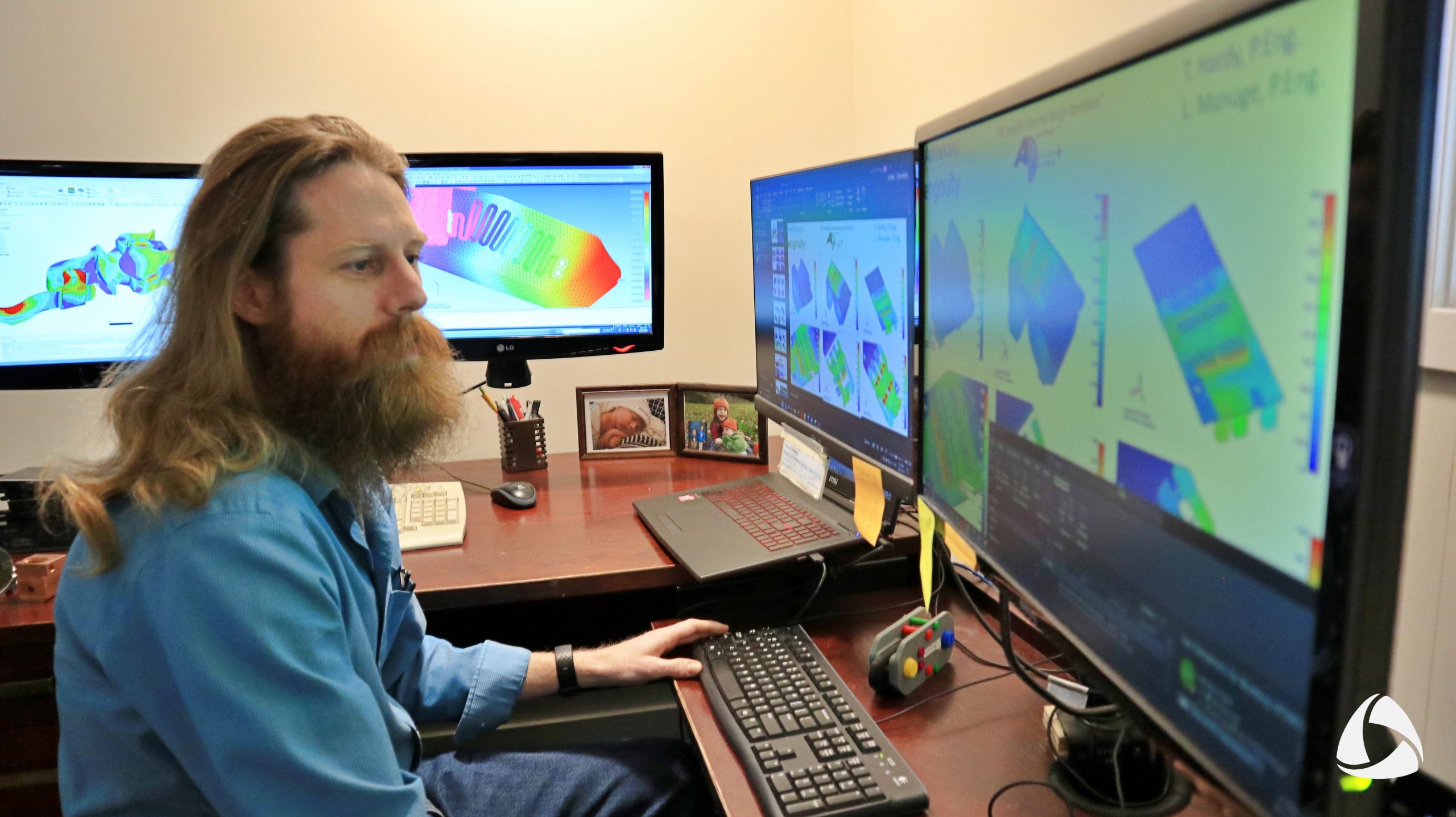 Louis Manuge working on FEA simulations
"My goal is to be the best that I can be: to constantly learn, and to push the limits of this technology," Lou adds. "To be able to provide that next level of engineering support that goes beyond the norm, and to be able to make more efficient, better, lighter, cheaper, and faster designs." Of course, Lou is also looking forward to explore designing with composite materials, as a natural next step for the team.
"I think to say 'follow your dreams' is a bit bogus. I think you need to find something that you're interested in, that you see a demand for, and then just get really good at it," Lou says, as advice for students and professionals just starting out in the field. "Find a mentor, or stay up until 3 in the morning watching youtube videos – just get extremely skilled at something. Then, remember to build relationships along the way. Early in your career, as you establish your reputation, make sure to establish yourself as a strong technical person. Then ensure that you keep those soft skills, like networking and interpersonal skills, and good things should happen."
With Mechanical Engineering and Design being an integral part of everything we see, touch, and use in the world around us, it's important to de-risk and to optimize designs before they go out into the world. Analysis tools like Finite Element Analysis are used to ensure that designs are ready to endure real loads, and that materials are as efficient and cost-effective as they can be. After all, if there was a way to make sure that your design wouldn't fail, wouldn't you take it?
About Enginuity's Mechanical Engineering and Design Services
Mechanical engineering is a key component of any real physical product, prototype, assembly or 'thing' that requires some form of mechanical and functional design. Whether you're addressing an existing issue or validating an entirely new concept, Enginuity brings a practical, sustainable, and immediately useful response to the table — be it a kitchen table or a boardroom table.
You can have confidence in our excellent reputation, built on 17 years of first principles-based engineering. Our agile work teams bring together the right mix of skills for your job, whether it's an offshore instrument pack, a food production process, a new wearable, a medical device, or a space propulsion system. We've completed more than 300 projects in the past five years.
Our core competencies are centered around creative problem solving in the mechanical engineering space:
Design Validation, Detailed Analysis Services like Finite Element Analysis (FEA) and Computational Fluid Dynamics (CFD), real-world testing, Material Analysis, Structural Design (guaranteeing optimal function and safety of machinery and structures), Fabrication techniques like in-house CNC machining and 3D printing, welding, injection molding, casting, forging, and more. We also do Design for Manufacturing (DFM), Risk analysis, and of course, safety and designing to standard.
You can find out more about our services here.
To keep up with new projects and industry information, follow us on:
LinkedIn | Facebook | Twitter | Instagram