Our way of "truthing" new product development ideas and engineering challenges
We do this by wrapping a team around the problem: creative engineers, designers, technologists, researchers, and strategists work with you to assess your project's viability through the lens of first engineering principles.
Explore our Design Control Process Infographic to learn more. Scrolling down shows you each stages deliverables and understand how that stage unlocks the next phase of your creative design engineering journey.
Here because of Discovery?
Discovery is the very first step. Find out more below.
We question everything, so you don't have to.
Who will interact with or buy the product or process? How will they interact? 
Can it be designed, prototyped, and manufactured? Who will make it? Will it scale? 
What will it cost at the prototype, design, and production phases? What are the funding milestones? What do we need to show investors, and when?
What are the success indicators and risk factors? How will we know when we get there? 
What's the timeline and what "gates" will we pass through along the way?
How does this project fit into your overall strategy?
Our Design Control Process
The best ideas "come from the floor", whether it's a factory, the back deck of a boat, an operating room, or a golf course.
The people doing the job typically spark the innovation.
We simply facilitate, guide, design, and execute.
Workshop brainstorming the idea, breaking it down into functional blocks.
What have you tried?
Who interacts with the problem or idea?
What's the roadmap?
Deliverables:
Specification
Budget
Timeline
How do we prove functionality quickly?
Dive into functional blocks
Concept sketches
Hack-up prototyping
Rapid testing
Iteration of prototype
Deliverables:
Working prototype
Test results
Lessons learned
Budget & timeline update
Concept Review
Includes
– Off the shelf solutions & similar technologies
– Concepts evaluated against ESD
– Concept direction
– Industrial design options and direction
– Safety and risk assessment
Sign off: Did we prove the concept?
If yes, it's approved
If not, we iterate
Deeper dive into functional blocks
Component sourcing
CAD modelling
Calculations
Design and manufacturing approaches
Prototype iteration
Early adopter testing
Deliverables:
3D model/sketches
Bill of materials
Functional prototypes
Preliminary Design Review
Includes
– Proof-of-concept test results
– Review CAD models
– Critical design elements selected
– Preliminary Bill of Materials
– Review ESD compliance
– Ongoing risk assessment
Sign off: Did we hit the mark?
– Budget & timeline review
If yes, it's approved
If not, we iterate
Detailed modelling
Advanced numerical calculations and analysis
Specific component selection
Final design of custom parts
Production-ready prototype
Deliverables:
3D CAD model
Bill of materials
Budget for design for manufacture
Final prototype
System Design Review
Includes
– Fully detailed CAD model
– Detailed interdependencies
– Detailed fasteners/welds/finishes
– Review ESD compliance
– Ongoing risk assessment
→ Design freeze decision
Design for manufacture (tooling/fabrication)
Supply chain identification
Drawing package
Fabrication drawing package
Final bill of materials
Build plan
Test plan
Critical Design Review
Includes
– Part drawings (QA Stamped)
– Assembly drawings (QA Stamped)
– Detailed Bill of Materials
– Assembly instructions
– Ongoing risk assessment
→ "Proceed to build" decision
→ Production Budget

Source
Purchase
Assemble
Inspect
 Test for
Functionality
Validation
Certification
Final Project Review
Includes
– Documentation package
– On-site installation and setup
– Testing plan and results
– Lessons learned
→ Subject to your approval / Client acceptance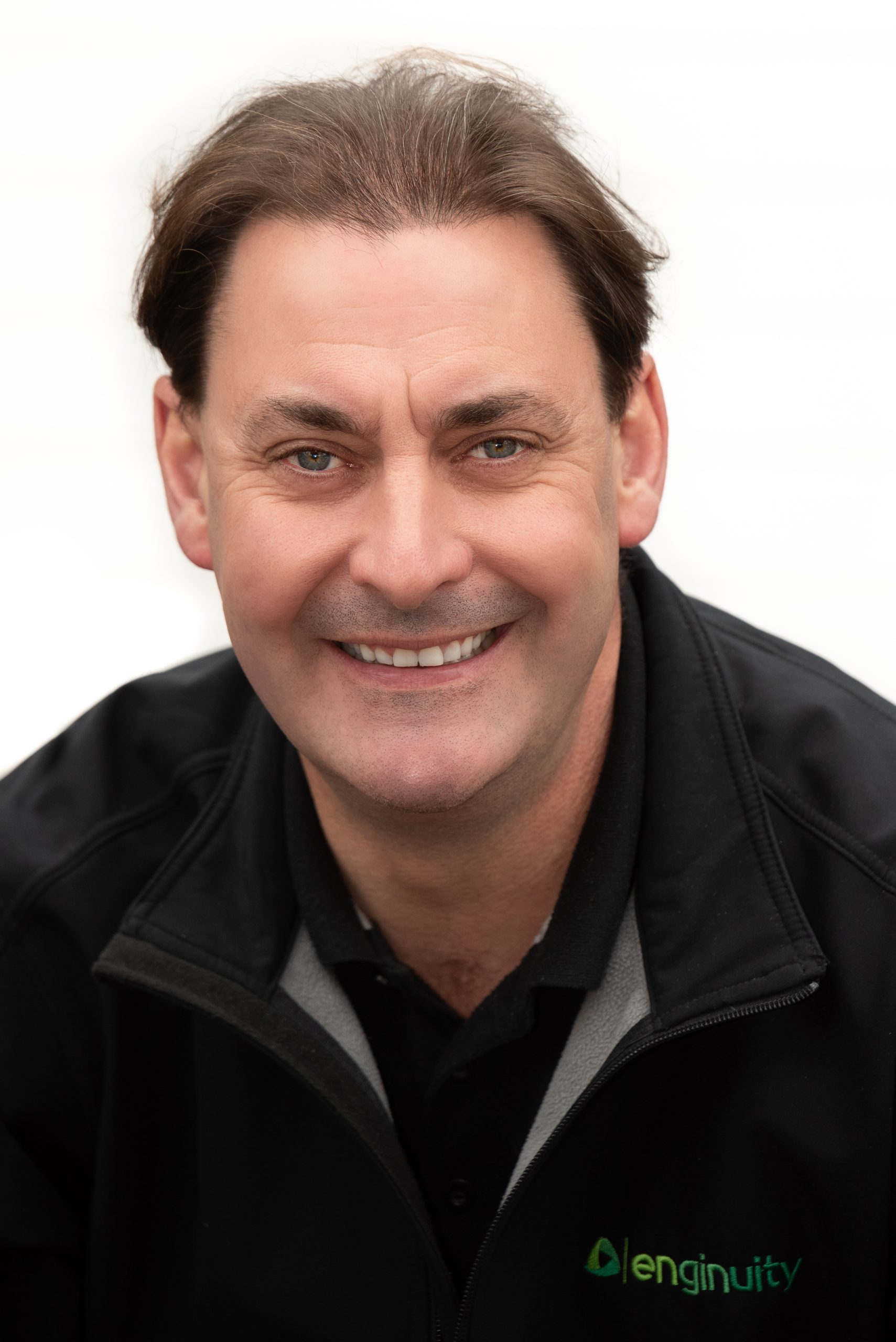 Now that you're in touch with us, what's next?
Talk to Alf.
Alf Trower is your first point of contact.
With 25 years of client service and problem solving behind him, it's pretty hard to surprise — or stump — Alf.
Your first conversation with Alf will answer key questions: Is Enginuity the right fit? Do we have relevant experience and expertise? What coaching do you need to pull together the stuff we need to move forward?
Leave your contact details and we will be in touch soon.
Talk to us. We will be in touch with you soon.