Electronics Engineering
Specializing in the design, prototyping, and manufacturing of embedded systems: electronics hardware packaged and embedded in a product or device.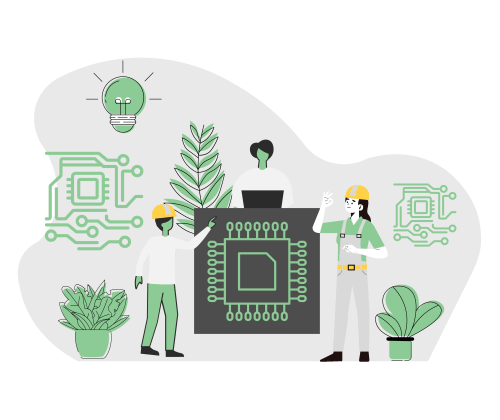 We can step in and develop an entire project, or any part of the product or process.
Your electronics engineering solution comes with professional project management integrated across Enginuity's core competencies:
mechanical engineering, automation engineering, electrical engineering, process engineering, and design engineering.
Agile and innovative
Our Electronics Team has the capability to design and integrate monitoring and control systems for our clients. 
From sub-sea to aerospace, Enginuity has designed and tested electrical, electronics, and electro-mechanical systems to survive in Harsh Environments. 
Electrical devices designed by Enginuity can be found in agriculture and aquaculture sampling and testing, medical and wellness monitoring, and industrial and robotics applications.
PCB Milling Machine
Enginuity has added a new PCB milling machine to our electronics lab, greatly increasing our electronics prototyping capability.
One of the only machines of its type in Atlantic Canada, the mill enables us to design and build a prototype or small production run of newly designed PCBs in-house.
The addition of the mill ensures electronics design can be iterated quickly without waiting for overseas supply chains, cutting iteration time down to a week.
Our Core Competencies
Our electronics design support services include:
Main Capabilities
Sensor I/O
Controls Hardware
MCU and Graphics Processor Firmware
Board Schematic and Layout
Prototype Creation and Testing
DFM PCB Design
IoT Device Connection and Monitoring
Data Analysis and Display
Functional Testing
Conceptual Design and Rapid Prototyping
of electromechanical systems includes one- and two-layer PCBs (printed circuit boards) and other electronic hardware using 3D, high-quality resin, and nylon printing.
PCB Design and Testing
are available for a wide range of applications, from medical devices to subsea innovations.
Design for Manufacturing (DFM)
takes your product from demo to prototype to manufactured device.
Additional Capabilities:
Process logic
Electronics test stations
Sensing and measuring
Programming/software development
Data collection and storage
IoT device development and monitoring
Wireless communications design (RF)
Controls hardware design
Talk to us. We will be in touch with you soon.