IMO Foods in Yarmouth, NS has streamlined the packaging process of their popular Kersen Canned Fish, using Enginuity's Robotics & Automation Team, capturing all that is Industry 4.0.
With Enginuity's Can Conveyance and Palletizing system, IMO can now double their production length to meet market demand with this food automation solution.
IMO Foods Ltd (IMO) is a fish cannery located in Yarmouth, Nova Scotia. They have been packing fish for 50 years, using sustainably harvested raw materials like herring and sardines from the Bay of Fundy and the Atlantic Ocean.
The company has been looking into increasing automation for their facility because they had to find ways to make sure that they were competitive enough in the food industry to meet market demands from grocery leaders, while struggling with the ongoing labor shortage in rural Nova Scotia. Furthermore, with a constrained supply chain in the food and beverage industry due to the ongoing covid-19 pandemic, there is a further increase in the demand for the product.
Typical of many food processing plants that have operated for many years, some inefficiencies existed in their process, specifically in packing product to meet specific client orders. The incumbent process had several separate, manual steps, that had potential to cause bottlenecks in their process which reduced their production output.
Following an Automation Study conducted by the Research Productivity Council in New Brunswick (www.rpc.ca), IMO engaged Enginuity to conduct a process walk-through. This evolved through Enginuity's Automation Control Process into a Preliminary Design followed by a Test Install of conveyors and packaging robot at Enginuity's Halifax facility, before being implemented at the Yarmouth site minimizing production impact and without any downtime on the food production line.
Click image above to view more of the image slider.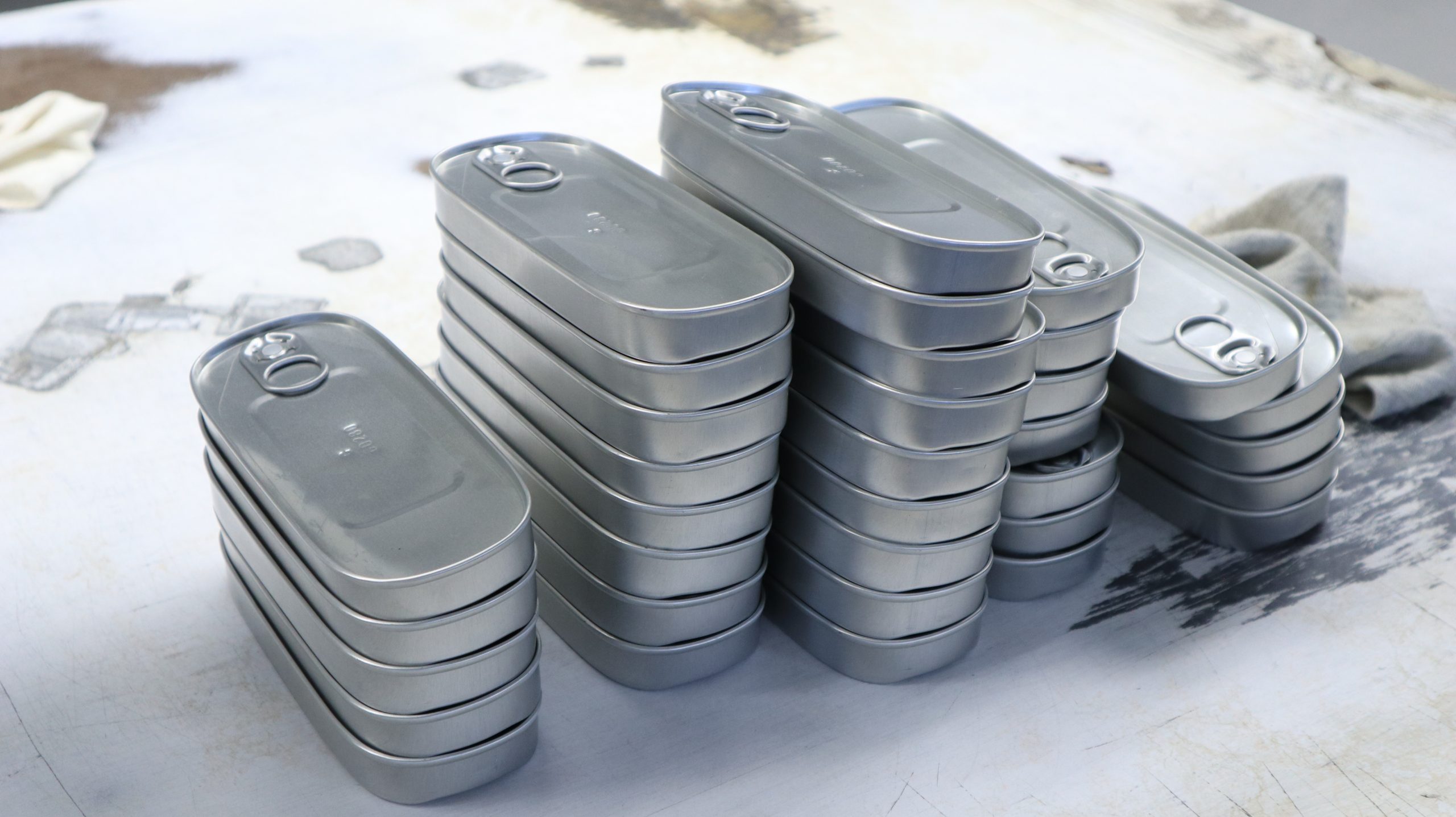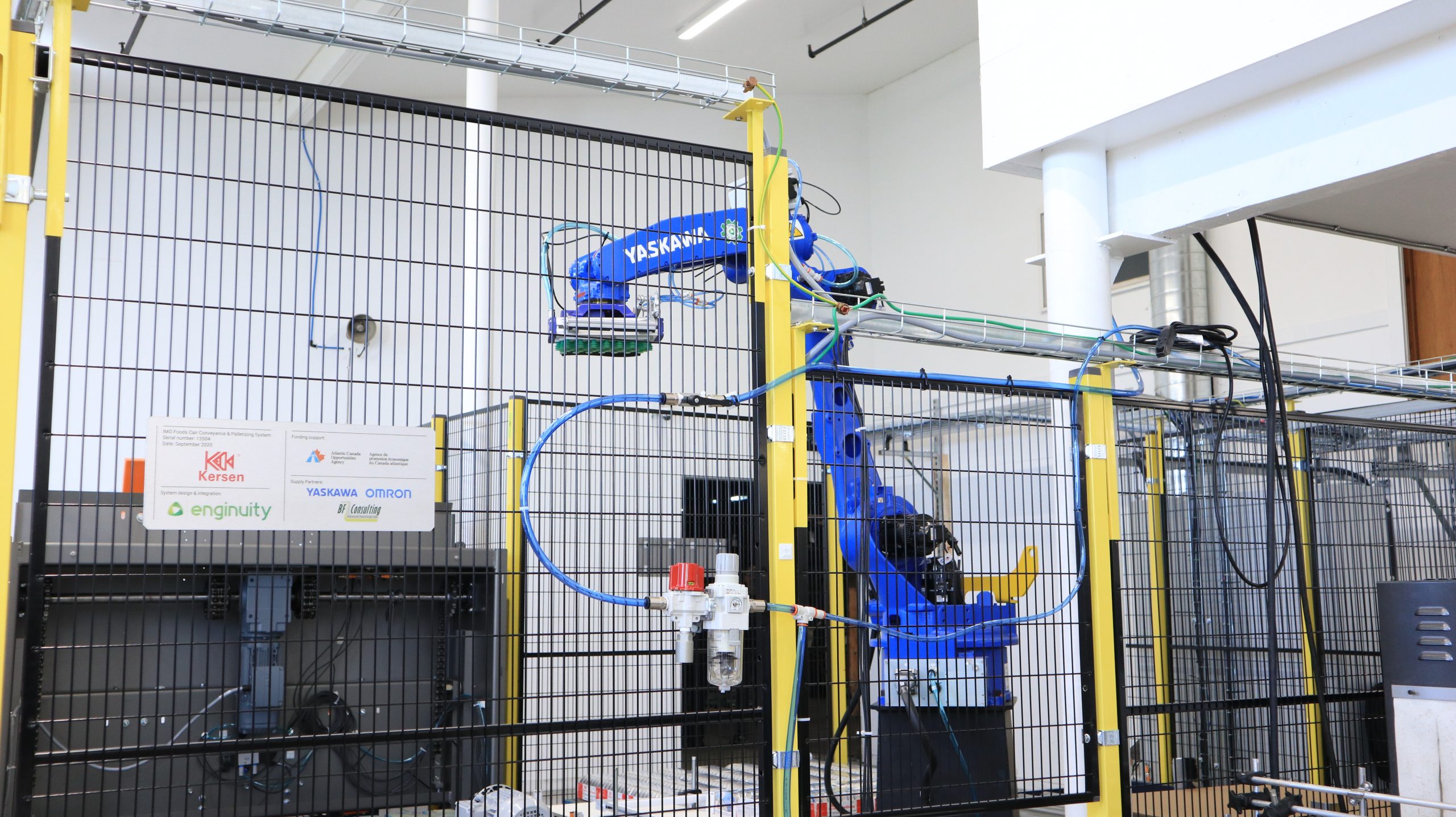 Enginuity has been able to eliminate most manual packing. This eliminates double handling on the assembly line and hands on the product, ensuring a more systematic and automated process; as well as increased food safety. This system was specifically customized for the facility, due to the physical limitations of the building.
The custom, automated system is the first step in fully automating the food packaging process. Cans are delivered via a 20′ tall spiral conveyor from the lower floor following final inspection, and delivered through a packaging process. Packages are then picked up by a 6-axis robot for stacking onto pallets for shipping.
The facility is now able to eliminate a significant manual part of their process. With the new automation technology, staff are now spending less of their time performing unnecessary boxing and unboxing of food products and are able to respond to customer orders in a more timely manner.
As part of the implementation, Enginuity also built in a SCADA (Supervisory Control and Data Acquisition) solution that offers insight and added functionality into the entire process, offering a visual snapshot of the production system allowing IMO to control and manage throughput including:
Production forecasting
Quality control analysis
Machine health and Maintenance requirements
Batch, lot, and work order reporting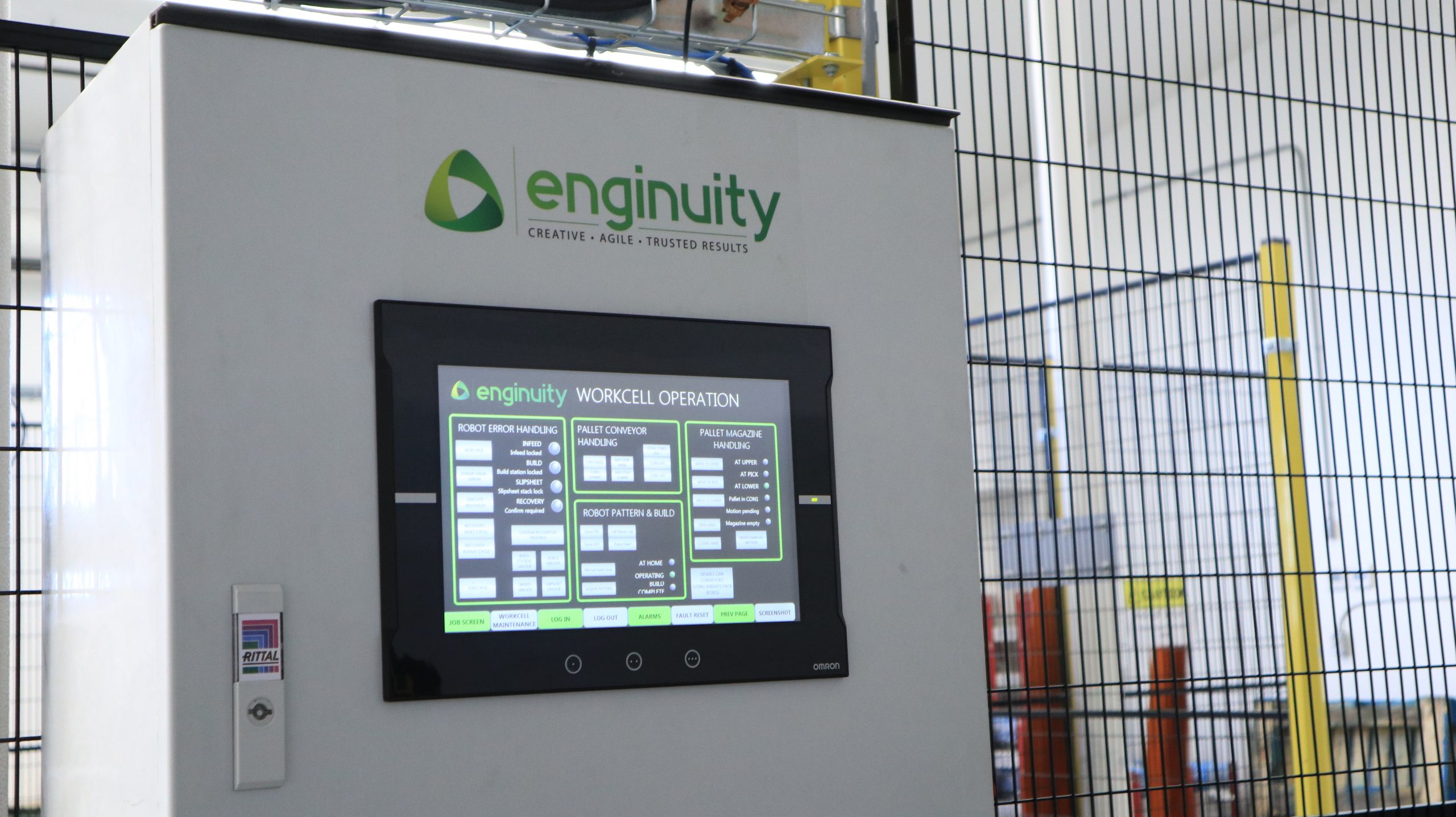 This control system is offered in both mobile and desktop platforms and is accessible from anywhere with an internet connection. The system also allows remote control and diagnostics for the Enginuity team to provide assistance without travelling to Yarmouth, reducing cost of operation.
"The big challenge was the limitations of the building. If we had one big, open building, that would be fine, and it would be pretty simple to imagine. This building is cut-up, and there were a lot of add-ons over the years, and we've added pieces here and there. We couldn't just bring the parts together, and we had to move the cans over a fairly large distance. That was the challenge, and it needed a lot of engineering into it. We obviously couldn't have done this ourselves, since it's a big engineering project. But that's something that Enginuity was able to do for us," Phil Leblanc, Owner of IMO Foods Ltd, said.
Because of this solution, it was estimated that only about half as many people would be needed to run this part of the process, which reduces costs significantly. Then, it is estimated that ROI would be about 2 years.
There is also a 10%-20% increase in overall factory efficiency, a compounded increase on top of the reduced costs due to decreased manual labor.
The system has been designed to operate at two times IMO Food's current rate, paving the way for a doubling of production as more industrial automation is brought online in 2021.
Owner Phil Leblanc shares that they are currently working with Enginuity on another small collaborative project, that will decrease their defect rate and further increase productivity.
2021 will bring a further round of investment in process improvement and new technology in other aspects of the food plant layout.
---
We're also designing a Cannabis Analyzer project under our Product Development services. To find out more, click here.
To keep up with new projects and industry information, follow us on: